In North Dakota, we take pride in our high-quality education system.

As a national leader in education, your workforce will have the knowledge and skills to give your company a competitive edge. Maybe itís because 95 percent of North Dakotaís students receive their high school credential.

Maybe itís the low 15.9 to 1 student-to-faculty ratio at our North Dakota University System campuses.

Whatever the reason, North Dakotans are among the most highly educated people in the nation.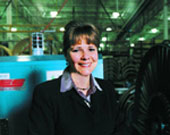 Video Clip
Susan Marvin

President
Marvin Windows and Doors



"We found here that the productivity has been very very high--in fact it is much higher from the beginning than we expected. Normally when we come into a new facility there is a start up period of time and a period of time where we are not as productive, but we didnít find that to be the case here."