The costs associated with starting, expanding and running a business can vary tremendously from state to state. Our advanced telecommunications infrastructure will provide you with the resources, products and services your business needs at affordable rates.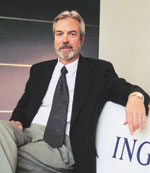 Video Clip
Mark Smith

Senior Vice President
Customer Service Operations, ING

"In terms of the infrastructure that they put together for us around telecommunications, our data transfer, our voice transfer, I think North Dakota has been kind of a leader in terms of putting in fiber optic capabilities throughout the state."